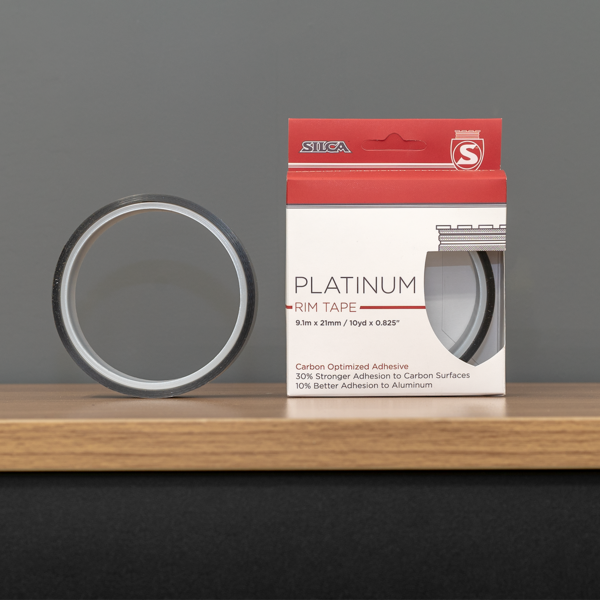 PLATIUM TUBELESS RIM TAPE
SILCA Platinum Rim Tape is the finest Tubeless Conversion (or traditional rim tape replacement) tape on the market featuring a special Adhesive optimized for Carbon and Rough surfaces, resulting in improved sealing on both Aluminum AND Carbon Rims.
25% stronger tape material allows for 25% thinner tape for better conformability to your rim
Full Synthetic adhesive system is stronger than traditional adhesives on aluminum and optimized to be up to 30% stronger on carbon surfaces
15% thicker adhesive layer better fills porosities and surface imperfections for improved sealing
Reduced thickness improves tire installation/removal compared to thicker tapes.
21mm Tape Fits 15c-19c Rims, 25mm Tape Fits 21c-27c Rims
2 Wraps of tape for Road Wheels, 1 Wrap for Mountain and CX
9m Tape Per Roll will Wrap 2 Road Disc Wheels, 4 CX/29'er Wheels or 5 26" Mtn Wheels
2 Wraps on Road Disc Wheel = 9 grams, 1 Wrap CX/29'er = 4.5 grams
Can be used as ultra-light rim tape with inner tubes (2 wraps required)
Please Note: Tubeless tires are required when converting to tubeless. Road Wheels with Rim Brakes can generate temperatures which may exceed the melting point of any rim tape. SILCA under no circumstances claim that our Tubeless Tape can make non-tubeless compatible rims Tubeless compatible. Please consult with your wheel or rim manufacturer before converting any product that is not already deemed Tubeless compatible for further instruction.